Leadership 
The Executive Committee spearheads the celebration of women, past and present, at Cal. The History Steering Committee is responsible for collecting, creating and archiving information about the rich history of the contributions of women to UC Berkeley. The History Advisory Committee guides the History committee with their knowledge and advice. 150W is also grateful to many other contributors who have attended 150W meetings, created content, helped publicize events, and so much more! Thank you!
Executive Committee
Sharon Inkelas (Professor, Department of Linguistics; and Special Faculty Advisor to the Chancellor on Sexual Violence/Sexual Harassment)
Oliver O'Reilly (Professor, Department of Mechanical Engineering; and Chair of the Berkeley Division of the Academic Senate, 2019-20)
La Dawn Duvall (Public Affairs)
Jill Finlayson (Women in Tech Initiative)
Briana Kaler (Campus Ambassador; Undergraduate Student)
History Steering Committee
Catherine Gallagher (Professor Emerita, Department of English) [Co-chair]
Sheila Humphreys (Emerita Director of Diversity, EECS) [Co-chair]
Janet Broughton
Catherine Ceniza Choy
Margaret Conkey
Fiona Doyle
Paula Fass
Jill Finlayson
Lisa Garcia-Bedolla
David Hollinger
Catherine Koshland
Christina Maslach
Kathryn M. Neal
Tianna Paschel
Angelica Stacy
History Advisory Committee
Alice M. Agogino
Cici Ambrosio
Zach Bleemer
Lillian Castillo-Speed
Lupe Gallegos-Diaz
Joan Finnie
Laura Furney
Susan Graham
Darcy Grimaldo Grigsby
Cloey Hewitt
Shannon Jackson
Georgina Kleege
Leslie Kurke
Grace Lavery
Marcia C. Linn
Anne Jane Maclachlan
Martha Olney
Mary Ann Smart
Christiane Stachl
Susan Irene Stone
Ula Taylor
Rhona Weinstein
Gia White
Other Important Contributors
Megan A Amaral
Lishelle Blakemore
Tamara Bock
Denise Cronin
Jay Le Roux Dillon
Ciana Gallardo
Julie Gipple
Tiffany Grandstaff
Laura Hassner
Aastha Jha
Miranda Jiang
Ram Kapoor
Wanda Nieters
Ivan Natividad

Anjika Pai

Gauthami Penakalapati
Juliet Pooler
Roxanne Makasdjian
Hulda Louise Nelson
Shannon O'Brien
Lily Espinoza Ploski
Reanna Powell
Jacob Shea
Jennifer Simon-O'Neill
Jami Smith
Louisa Spier
Cary R Sweeney
Anh Tran
Kathryn Tucker
---
Supporters
A heartfelt thank you to all our donors for their generous support of our 150 Years of Women at Berkeley Celebration (150W)! Stay tuned for updates on the Art Project!
Donors
David Ackerly
Jennifer Ahern
Amani Allen
Veronica Alvarez
Megan Amaral
Shadi Aminololama-Shakeri
Rebecca Armstrong
Maximilian Auffhammer
Kathryn Bader and Tricia Schnedar
Jocelyn and Randy Banaria
John Battles
Robert Birgeneau
Lishelle Blakemore
Jeffrey Bokor
Daniel Boyarin
Isabella Brandes
Elizabeth Brashers
George Breslauer
Barbara Broque
Janet Broughton
Wendy Brown
Silvia Bunge
Vishaan and Maria Chakrabarti
Courtney Chandler
Christina Chao
Jennifer Chatman
Jennifer Chayes
Jennifer Chizuk
Renee Chow
Catherine Choy
Carol Christ
Douglas Clark
John Colford
Michael Colvin
Jennifer Cornet-Carrillo
J Cowan
Cindy Cox
Camille Crittenden
Jay Dillon
La Dawn Duvall
Jill Finlayson
Karie Frasch
Hannah Ginsborg
Althea Grannum Cummings
Lizzie Hager-Barnard
Ann Harrison
Laura Hassner
Marti Hearst
Amy Herr
Carla Hesse
Stephen Hinshaw
Leslea Hlusko
Phyllis Hoffman
Karen Holtermann
Julie Hooper
Sheila Humphreys
Alyssa Hurtado
Sharon Inkelas
Daniel Inkelas
Bob Jacobsen
Richard Jaffe
Wendy James
Ann Jeffrey
Jennifer Johnson-Hanks
Janet King
Jim Knowlton
Marguerite Knowlton
Catherine Koshland
Laura Kray
Ann Kring
Maureen Lahiff
Jolie Lam
Andrea Lambert
Ryan Lawrence
Rebecca Lizarraga
Richard Lyons
Jeff Marble
Helen Marcus
Benjamin Matts
Jane Mauldon
Nancy McKinney
Smriti Mehta
Carol Mimura
Julie Morgan Hooper
Keith Muller
Lynn Nakada
Hulda Nelson
Monique Nolan
Michael O'Hare
Martha Olney
Oliver OReilly
Nicholas Paige
Sandrine Palmer
Vern Paxson
Jeffrey Perloff
Nadesan Permaul
Trond Petersen
Kim Polese
Erin Proudfoot
Raka Ray
Jennifer Redondo-Marquez
Jeffrey Reimer
Rhonda Righter
Francesca Rivera
Christine Rosen
Steven and Elizabeth Rosenberg
Linda Rugg
Rebecca Sablo
Karin Sanders
Thomas Savides
Nathan Sayre
Susan Schweik
Alison Scott
Elizabeth Sibley
Emily Smith
Sandra Smith
Mark Stacey
Angelica Stacy
Jenn Stringer
Suzanne Sutton
Gitanjali Swamy
Cary Sweeney
Ann Swidler
Ula Taylor
Nancy Orear and Teresa Basgall
Suzette Torres
Marc and Carol Vitolo
Sophie Volpp
Kim Voss
Erika Walker
Richard Wallace
Rhona Weinstein
Mary Elizabeth Wendt
Seamus Wilmot
Jennifer Wolch
Catherine Wolfram
Sheryl and Bob Wong
Lisa Wymore
Candace Yano
Kelly Yun
Sheldon Zedeck
---
Archive of 150W-related Events 
Lectures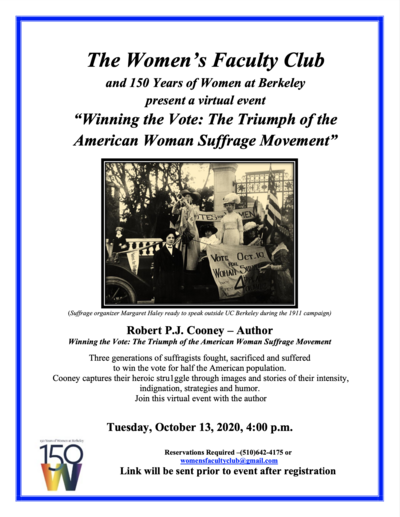 Tuesday, October 13: Centennial Event - Winning the Vote: the Triumph of the American Woman Suffrage Movement

(link is external)

.
Wednesday, March 4: Lecture by Dr. MaryLouise Patterson

(link is external)

, daughter of Louise Patterson (class of 1923): "Langston as We Knew Him." 650 Barrows Hall, 4pm
Wednesday, February 26: Lecture by Jennifer Doyle, Et tu: Truth-telling Between Women

(link is external)

.  370 Dwinelle Hall

(link is external)

. 12-1:30 p.m.
Monday, February 24: Khiara Bridges - Imagining an Ethnography of Pregnant Class-Privileged Women of Color

(link is external)

.  Philip Selznick Seminar Room, Philip Selznick Seminar Room. Lecture | February 24 | 12:45-2 p.m.
Friday, February 21: Lecture by Walter Echo-Hawk ("Sea of Grass"), with introduction by Angela Riley. Multicultural Community Center, 5:30-6:30pm.
Tuesday, February 18: Lecture by Aileen Suzara, Chef/Educator, Sariwa Kitchen; Catherine Ceniza Choy, Professor of Ethnic Studies, A Celebration of Doreen G. Fernandez's Tikim: Essays on Philippine Food and Culture. 554 Barrows Hall, 4-5:30pm
Thursday, February 6: Lecture by Tara Bunch, "The Road Less Traveled". Conversations with Global Leaders, Banatao Auditorium, Stardja Dai Hall, 12-1pm
Monday, February 3: Lecture by Jennifer Hirsch, "Intersections of Power: Sexual Assault, Public Health and the Making of Sexual Citizens." 820 Barrows Hall, 12:00-1:30pm.
Panels and Conferences

Saturday, March 14th: Womxn of Color Initiative presents the 35th Annual Empowering Womxn of Color Conference (EWOCC):

(link is external)

 "Metamorphosis: Casting Off Oppressive Paradigms to Live the Life We've Been Fighting For." UC Berkeley. Free for UC Berkeley students.
Monday, October 12: Campus Conversations

(link is external)

 - 150W History Project. 12-1pm
Saturday, March 7: Expanding Your Horizons Conference

(link is external)

. Valley Life Sciences Building, 8:30am-3:30pm
Friday, March 6: 4th Annual Women in Tech Symposium: Reimagining Cybersecurity for all

(link is external)

. Bechtel Engineering Center, Sibley Auditorium, 8am-6pm.
Wednesday, March 4: 2020 RISE! Celebrating Women, Community Love and Leadership: 6th Annual Event

(link is external)

.  Anna Head Alumnae Hall (2537 Haste St.)

(link is external)

. 5-7 p.m.
Tuesday, March 3: Campus Conversation with UC President Janet Napolitano

(link is external)

. Sibley Auditorium. Cal ID required. 12-1.
Monday, March 2: Women in Data Science Berkeley 2020

(link is external)

, Banatao Auditorium, Sutardja Dai Hall, UC Berkeley
Thursday, February 27. Panel discussion: Arts in the Afternoon: The Quilts of Rosie Lee Tompkins

(link is external)

. 4:10-6 p.m. | Women's Faculty Club

(link is external)

, Stebbins Lounge
Athletics 
Friday, February 21: Cal-Oregon Women's Basketball Game with with Honorary Coach Tsu-Jae King Liu (Dean, College of Engineering). Haas Pavilion, 6PM
Sunday, Feburary 9: Cal-UCLA Women's Basketball Game with with Honorary Coaches Linda Burton (Dean, School of Social Welfare) and Janet Broughton (Executive Dean, College of Letters and Sciences). Haas Pavilion, 2PM
Burton (left) and  Broughton (right)
Friday, Feburary 7: Cal-USC Women's Basketball Game with with Honorary Coaches Renee Chow (Acting Dean, College of Environmental Design) and Prudence Carter (Dean, Graduate School of Education). Haas Pavilion, 7PM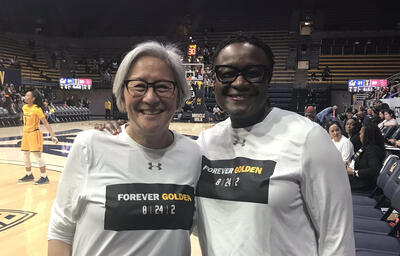 Chow (left) and Carter (right)
Cal-Colorado Women's Basketball Game with with Honorary Coach Raka Ray (Dean of the Division of Social Sciences)
Cal-Utah Women's Basketball Game with Honorary Coach Lisa García Bedolla (Vice Provost for Graduate Studies and Dean of the Graduate Division)
Cal-Stanford Women's Basketball Game with Honorary Coach Carol Christ (Chancellor)
Other Celebrations
Friday, September 25: 102nd Birthday Celebration: a Virtual Celebration of Women Leaders Past, Present, and Future

(link is external)

Thursday, March 12: A Celebration of Women in Culinary Leadership at Cal Dining

(PDF file)

. During lunch service (11am-2pm), Chefs at Cal Dining will be offering up special dishes to celebrate the many contributions of the women in our department.  Join us at Foothill Dining with Sous Chef Chanel Williams and Senior Cook Lois Moore and at Cafe 3 with Sous Chef Annie Andre and Senior Cook Stephanie Stephens dishing up their best.  Locations: Cafe 3 and Foothill
Wednesday, March 4: Wikipedia Edit-a-Thon: Art + Feminism and Race + Justice. Moffitt Undergraduate Library, 12 - 5 p.m
February 13 – June 21, 2020 every Sunday, Wednesday, Thursday, Friday & Saturday | 11 a.m.-5 p.m. |  Cloth that Stretches: Weaving Community Across Time and Space

(link is external)

. Exhibit - Artifacts | Hearst Museum of Anthropology

(link is external)

Wednesday, November 6: Opening of the Berkeley Women's Studies Movement Archive
---