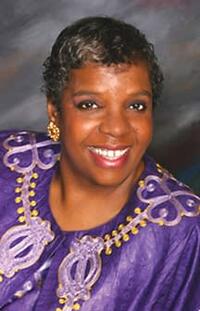 Cecilia Diane Howell was a community leader born July 20, 1950, in Washington, D.C.  A social and political powerbroker in her own right, Howell used her multifaceted enterprise to promote issues of economic empowerment, education access and political and social activism in every way conceivable. The Chicago native earned a B.A. in psychology from Barnard College and Ph.D. in clinical psychology from UC Berkeley. Howell was active with the Bay Area Association of Black Psychologists for many years and was elected president of the association in 1983. Recognizing the need to increase the visibility of African American psychologists in the Bay Area, she published the association's first newsletter, Black Perspectives, in 1984. 
Through her work in her profession and in various social and political circles, Howell recognized the need to better promote African American businesses in the Oakland San Francisco Bay Area. In 1989, she published the first edition of Black Business Listings with no staff and no money, only a strong will. After serving as the local coordinator for the Black Expo USA for several years in the early 1990s, Dr. Howell took over as producer of the Oakland Black Expo in 1997. In 2000, she established the nonprofit organization SEEDS (Self-Empowerment through Entrepreneurship and Dreams), which has awarded more than $25,000 in scholarships supporting the educational aspirations of local youth.
Over the course of her illustrious career, Dr. Howell was recognized by numerous organizations. The most recent of these include the Social Entrepreneur Award from the National Association of Women Business Owners, the Local Hero Award from KQED, the 2008 Community Award from 100 Black Men of the Bay Area, a Citation of Achievement from the Oakland City Council, and the Woman of the Year Award by Sacramento's Omega Psi Phi Fraternity. She passed away on Christmas Eve from complications from pneumonia at 58.
Oakland Mayor Ron Dellums was among many who paid tribute to Howell upon learning of her passing. "I am deeply saddened by the passing of Dr. C. Diane Howell, who meant so much to our community as a leader, friend and pioneer of social entrepreneurship," said Dellums. "She was a tireless advocate for the African American community and small business owners. Dr. Howell empowered the community and helped all whom she touched to realize their potential."
Congresswoman Barbara Lee called her a "beacon of optimism and hope, particularly for the owners of minority businesses throughout the Bay Area." Lee also stated, "Dr. Howell was a great friend and human being. I was proud to call her my sister, and I will miss her kindness, wise counsel and her love. My thoughts and prayers are with her family, her staff, and those in the business community whose lives were enriched by Dr. Howell's unwavering commitment to her community."
Source: Black Business Leader C. Diane-Howell
Read more:
Howell as Black Expo Founder in East Bay Times 
Collection of papers on Dr. Howell as producer and publisher