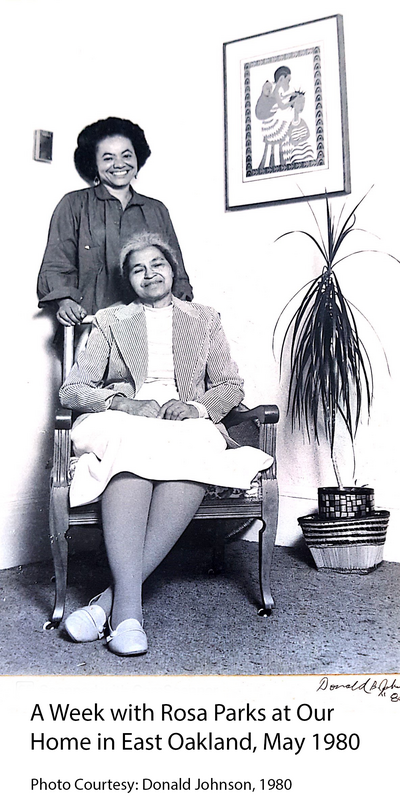 Daphne Muse is a writer, activist, educator, editor, social commentator and cultural broker. In February 2021, Muse was appointed the Inaugural Elder-in-Residence for the Black Studies Collaboratory (BSC) in the Department of African American Studies at the University of California - Berkeley. The Elder-in-Residence is part of a larger Abolition Democracy Fellows Program, which will bring together artists, activists, locals, and scholars to amplify the interdisciplinary, political, and world-building work of Black Studies.
Born in Washington, DC to parents who were part of the second wave of migration up South under The Warmth of Other Suns, Muse graduated in 1967 from Fisk University where she was anointed by the hand of University Librarian and Harlem Renaissance writer and poet Arna Bontemps. She went on to teach in DC Public Schools before managing Drum and Spear, a bookstore and cultural center founded by members of the Student Non-Violent Coordinating Committee (SNCC).
In 1971, she migrated to Northern California. Three weeks after her arrival, Muse became a secretary to the Legal Defense Team for the Angela Davis Trial. In 1972, she joined the faculty of UC Berkeley's Afro-American Studies Department and went on to serve on the faculty of the English Department and as the research coordinator for the McNair Scholars Program. As a cultural broker and in collaboration with her colleagues Francophone visionary Dr. VeVe Clark, Reference Librarian Phyllis Bischof and English Professor Dr. Erskine Peters, she organized readings, events and exhibits at UC Berkeley that included Pulitzer Prize-Winning poet Gwendolyn Brooks, author Shirley Graham DuBois, anthropologist and choreographer Katherine Dunham and iconic author James Baldwin. 
Muse also served on the faculty of Mills College in the Ethnic Studies and English Departments and as the director of the Women's Leadership Institute. There she taught a survey course on Black Women Writers, Expository Writing and Multicultural Children's Literature. At Mills, she also mounted "On These I Stand: An Exhibit of Rare Black Books and Collectibles" (1978 and 2014). She also produced the "Right-on Rainbow Children's Book and Film Festival" (1978-1983) and brought a host of world-renowned scholars, artists, writers and activists to campus including the Quilters of Gees Bend, author and activist Yolanda King, novelist and poet Alice Walker and prize-winning children's author Eloise Greenfield. From 1978-1984, she also produced the Right on Rainbow Children's Books and Film Festival.
In her role, she also served on the Advisory Committee for the Office of the President at Mills. As director of the Women's Leadership Institute (WLI), she established a program for undergraduate and graduate fellows, collaborated with colleagues on establishing guidelines for the Barbara Lee Chair, developed an interdisciplinary curriculum and created partnerships with community-based organizations to better serve students and faculty in raising the profile of the college as an institution critically essential to the culture of Oakland and the greater network of women's colleges. 
Muse's work as a cultural broker also includes two years as the program director for the Black Filmmakers Hall of Fame, serving as a publicist for Alice Walker from 1979-1984, and consulting with the Bancroft Library at UC Berkeley on the acquisition of Pulitzer Prize winning poet and author Gwendolyn Brooks' papers (1917-1980). From 2014-2016 Muse served as a consultant to Google Talks, bringing authors, artists, and journalists to the series including Alice Walker, photographers and co-founders of Question Bridge Hank Thomas and Chris Johnson, and journalist Belva Davis.
She is the author of four books, a screenplay and series of poems, including her most recent "Love Poem to Harriet." Her commentaries and essays have been published in the Washington Post, Black Scholar, and The Atlantic and aired on Public Radio. For more than 40 years, she has worked with clients in realizing their works from concept to published manuscript, scripts for TV shows, narratives for museum exhibits and rites of passage. She spent six years as a lead writer for a partnership between the Education Division Commission on Major League Baseball and Scholastic, Inc. and served as a writer for Norman Lear's Declaration of Independence Road Show. 
Muse also serves on the advisory board of Julia Morgan School for Girls and was appointed an Ambassador of the Word by the César Egidio Serrano Foundation in Italy. Her community service includes serving on the selection committee for the Yoshiyama Awards (1996-2001) on behalf of the Hitachi Foundation and on the Board of ARTAIDSART based in Cape Town/Khayelitsha, South Africa since its founding in 2003, and donating books for rites of passage including birthdays, graduations and Halloween. She is the recipient of Black Women Organized for Action Living Legend Award (1973), ALA YA Notables List (1998), Daisy Award Recipient San Francisco Bay Area Girl Scout Council (1998), Forever New Frontiers Radio Essayist Honoring Gwendolyn Brooks (2004), and served as 2018 Writer-in-Residence at the International Peace and Art Center (Oakland, CA). In 2017, she was invited to write a Black History Month Tribute for Public Radio to Maya Angelou "Life Doesn't Frighten Me: Maya Angelou's Messages to Young Readers."
Recently, Muse has been presenting at the SF Commonwealth Club, USC, UC Berkeley, the Library of Congress, and the University of Baltimore based on "The Daphne Muse Collection of Correspondence: Documenting Black Life and Culture Across the Diaspora" from 1958 to the present. 
Read more:
Archive of Daphne Muse papers, circa 1960-2013
Daphne Muse on her week with Rosa Parks