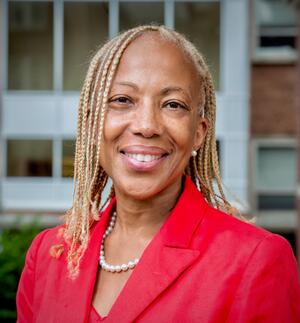 Lorraine Fleming became the first African American woman to receive a doctoral degree in Civil Engineering from UC Berkeley in 1985. Prior to her time at Berkeley, she received her bachelor's degree in Civil Engineering from Howard University, to which she returned as a professor after completing her PhD and where she has served as Interim Dean of the College of Engineering, Architecture, and Computer Science and Chair of the Department of Civil Engineering at Howard University. Lorraine's vision was to return to her alma mater with the knowledge and credentials needed to provide academic and career mentorship to students like herself who had little to no guidance in the engineering field during the formative years of their undergraduate education. 
Fleming currently leads multiple engaging mentorship programs at Howard University. One of which, the Global Education and Awareness Research Undergraduate Program (GEAR-UP), provides students each year the opportunity to travel across the globe to one of eight countries to work on focused international research projects. The program's aim is to equip students to be globally minded young professionals by exposing them to cultures in emerging environments in places like Thailand, Indonesia, Romania, Kenya, Ethiopia, and Tanzania where social issues and challenges differ greatly from those experienced in the United States. 
The second program  spearheaded by Professor  Fleming is the Howard University Science, Engineering, and Mathematics Program (HUSEM), which serves to offer undergraduate students opportunities to get involved in research opportunities unlike those they may get involved in during internships in order to broaden their horizons and open the potential path to graduate and doctoral studies. 
In addition to being a licensed professional engineer and a Fellow of the American Society of Civil Engineers, Fleming has received a number of accolades for her extensive research and initiative in improving and enhancing the experience of African American students in STEM disciplines. Her HUSEM program was bestowed the Exemplary Program Award for Mathematics, Science and Engineering Education by the national Quality Education for Minorities (QEM) Network in 2004. Lorraine was selected as a 2005 Carnegie Scholar and as a 2008 Golden Torch Award recipient for the Engineering Educator of the Year by the National Society of Black Engineers for her dedication to understanding both undergraduate teaching and learning. In 2015, she received the Presidential Award for Excellence in Science, Mathematics and Engineering Mentoring (PAESMEM), the highest mentoring award in the country, from President Barack Obama at the White House.
Contributed by Sheila Humphreys, 150W History Project Co-Chair
Learn more:
Professor profile at Howard University 
Research and acamedic citations