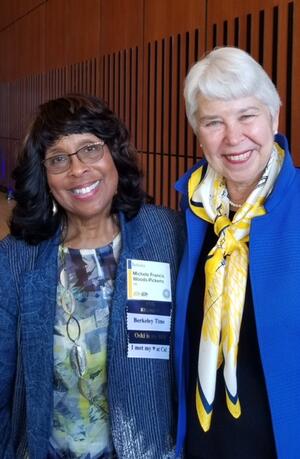 Michèle Woods Jones was the first Black Woman to serve as Assistant to the Vice Chancellor for Business Affairs and Ombudsperson for Staff at the University of California, Berkeley. Michele Woods Jones came to Berkeley as an undergraduate in 1966 from Monterey, California, after spending two years at Merritt Community College. She was part of the first cohort of Educational Opportunity Program (EOP) students and lived in student coop housing. In her oral history, she recalls observing the Third World Strike unfold around her during an era of radical social transformation. Michèle graduated with a Bachelor of Arts Degree in Psychology and History in 1969. Upon graduating, Woods Jones held increasingly responsible positions on the Berkeley campus, from her first job as counselor in the Educational Opportunity Program to Director of Student Services, and finally Staff Ombudsperson. She served from 1970 to 1991. 
She earned a Master of Science Degree in Counseling Psychology from California State University Hayward, California (CSU) while working at Berkeley. Her extensive Counseling Credentials include K-12, Community College and Marriage and Family Counseling. 
Since retiring from UC Berkeley to live in Hampton, Virginia, Woods Jones was offered a consulting position with the City of Hampton. She worked for the City Manager as a consultant to the City, to develop a process in which she coordinated the work of appointed citizens, both adults and high school students, along with City staff, to develop a response to race relations concerns in the City of Hampton. "It took almost two years, but the birth of the Citizens' Unity Commission (CUC) was a wonderful outcome," said Jones. 
In 1995, Woods Jones created her own successful business, LeAun Consulting Services, where she is the CEO and Senior Consultant. She is a Communications expert and is skilled in Organizational Development, Conflict Resolution, Multicultural/Multiracial Communication, Problem-Solving, Relationship Building, and Leadership Development. Since then she has managed over 75 major contracts in which she provided professional advising, workshop facilitation, and training and development for diversity and inclusion efforts. She has received numerous awards for projects bringing diverse people together to collectively solve problems in community relations. Woods Jones says, "My most earnest personal goal while at Cal was to enhance the life experiences of students and staff." Upon retirement, she was presented with the The Berkeley Citation, the campus's highest honor.
Read more: An Oral History with Michele Woods Jones