WOMEN WHO BUILT THE BERKELEY CAMPUS
an essay by Sandra P. Epstein, Ph.D.*
It has been a closely held secret that for more than 100 years most of the major buildings on the Berkeley campus were built by women. This is not to say that they dug the excavations, laid the bricks, or installed the sheetrock. Rather, the physical transformation of the campus was accomplished by the commitment and financial support of a small group of women who believed in the value of education and desired to bring opportunity to greater numbers of the state's citizenry. In the process they increased the eminence of the University with new programs while on a personal level they left a legacy of family names that remains in place today. Let's walk together to visit the campus that was created by these dynamic and generous women.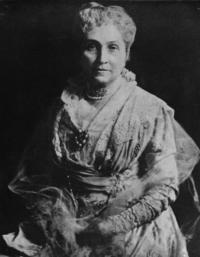 We begin our stroll at the northeast side of campus at the Hearst Mining Building, endowed by Phoebe Apperson Hearst in memory of her husband. Mrs. Hearst was not only one of the earliest and most generous supporters of the young university, but she was arguably one of the most significant women of her generation. At the news of her death, University President Benjamin Ide Wheeler described Phoebe Apperson Hearst as "a good great friend" [1] and a look back over the years at her generosity makes that statement seem even more valid.
Phoebe Apperson was born in 1842 in Franklin County, Missouri, some 45 miles south of St. Louis. Her family was of modest means; her father farmed and raised livestock. Phoebe attended a one room schoolhouse and eventually augmented the family income with teaching positions. At age 19, Phoebe married George Hearst, 22 years her senior, who had returned to the community to visit his ailing mother. Five months after their marriage, the couple moved to San Francisco. In 1863, Phoebe Hearst gave birth to William Randolph, their only child. 
In 1891, George Hearst died of cancer and left everything to his wife, making her the sole executor of an estate worth more than $20 million. Hearst, raised in a modest farming family, had very little education but a special interest in mines and mining. In 1850, attracted by the prospect of riches from gold, he had come to California. Lacking success in that venture, he turned to prospecting for silver and quartz in western Utah. This direction proved to be far more profitable, and Hearst eventually could claim a vast fortune from silver and mineral mines as well as extensive land holdings that spanned six Western states.
Following the death of her husband, Mrs. Hearst turned her efforts to actively using her resources for community endeavors particularly in the field of education. At the national level she contributed to the development of the kindergarten movement and in 1897 to the establishment of the National Congress of Mothers, the forerunner of the National Parent Teacher Association.  She gave grants to small mining communities in South Dakota and Montana for the establishment and support of public libraries. She was a co-founder of the National Cathedral School for Girls in Washington, D.C. and donated $10,000 to American University for construction of the College of History building. 
Upon her return to California, Mrs. Hearst quickly followed up on her interest in education and particularly young women.  Motivated perhaps by the activities of Mrs. Jane Stanford who had provided a significant endowment to found Stanford University, Phoebe Hearst let it be known that she was interested in contributing to the growth and development of the state university in Berkeley. In 1891 she informed the regents of her intention to make an annual contribution of $1500 to the University to be used for five $300 scholarships for worthy young women. She followed with a gift of $40,000 for construction of a hall for large scale entertaining next to her Berkeley home at Piedmont Avenue and Channing Way. In 1899 the structure, known as Hearst Hall, was moved to College Avenue, remodeled as a gymnasium with a pool and tennis courts for women students, and given to the university.[2]  She is credited also with providing the funds for two residential buildings for women students near the campus that became the nucleus of the women's club movement at Berkeley.  In 1899 Mrs. Hearst supported university archaeological expeditions to Egypt (which she accompanied), Italy, and Peru as well as archaeological research in California. Her support was responsible for the creation on campus in 1901 of the Department of Anthropology and the Lowie Museum of Anthropology, since renamed the Pheobe A. Hearst Museum of Anthropology. 
To implement her desire to create a memorial to her late husband, Mrs. Hearst  contributed $200,000 to sponsor an international architectural competition to develop a master plan for the Berkeley campus.  In the words of Harper's Weekly: "There has never been anything before in the history of education or of architecture quite like the competition which the University of California owes to the munificence of Mrs. Phoebe A. Hearst."[3]  Construction soon began on the Hearst Memorial Mining Building, central to the plan, which Mrs. Hearst dedicated to her husband. The steel and granite structure was completed in 1907 at a cost of more than $1 million and deemed the largest building in the world devoted to mining education.
With her appointment in 1897, Phoebe Apperson Hearst held the distinction of being the first woman to be appointed as a regent of the University of California on which she served with reappointments until her death in 1919.  In this position she was considered one of the highest ranking female public officials in the country and one of the first to augment public policy at the state level. In referring to the extraordinary generosity of Mrs. Hearst, the Secretary of the Regents noted in the University of California Chronicle that "…this one good citizen has from her private purse expanded more than the vast, populous, and wealthy state of California has given to the University of California for buildings, permanent or temporary, in the fifty years since California chartered its State University."[4] 
---